CR-02 shot blasting furnace
The Pellet Stove is usually associated with pelletized wood. However, many pellet stoves will also burn fuels such as grain, corn, seeds or wood chips . In some pellet furnaces, it may be necessary to mix these fuels with wood pellets. Granular waste (mainly including waste paper) is also the fuel for pellet stoves.
Unlike wood stoves that only operate on the chimney principle In the ventilation equipment, the pellet stove must use a specially sealed exhaust pipe to prevent the exhaust gas from escaping into the living space due to the air pressure generated by the combustion blower. Pellet furnaces require certified double-wall vents, usually three or four inches in diameter, stainless steel on the inside and galvanized on the outside. Because the pellet stove has a forced exhaust system, although it is not recommended to rise vertically to exhaust the vents, it is recommended to use a vertical operation of 3 to 5 feet (0.91 to 1.52 m) to introduce a certain draft to prevent particulate leakage. Power failure situation. Just like modern gas appliances, the pellet stove can be ventilated horizontally through the outer wall and terminate below the roof line, which makes it an excellent choice for structures without chimneys. If an existing chimney is available, the manufacturer urges the use of a stainless steel bushing (the length of the chimney) of the appropriate size for proper drafting. Modern building technology has established tightly sealed houses, forcing many pellet stove manufacturers to recommend that their stoves be equipped with external air inlets to ensure efficient operation of the stove and prevent potential negative pressure in the house.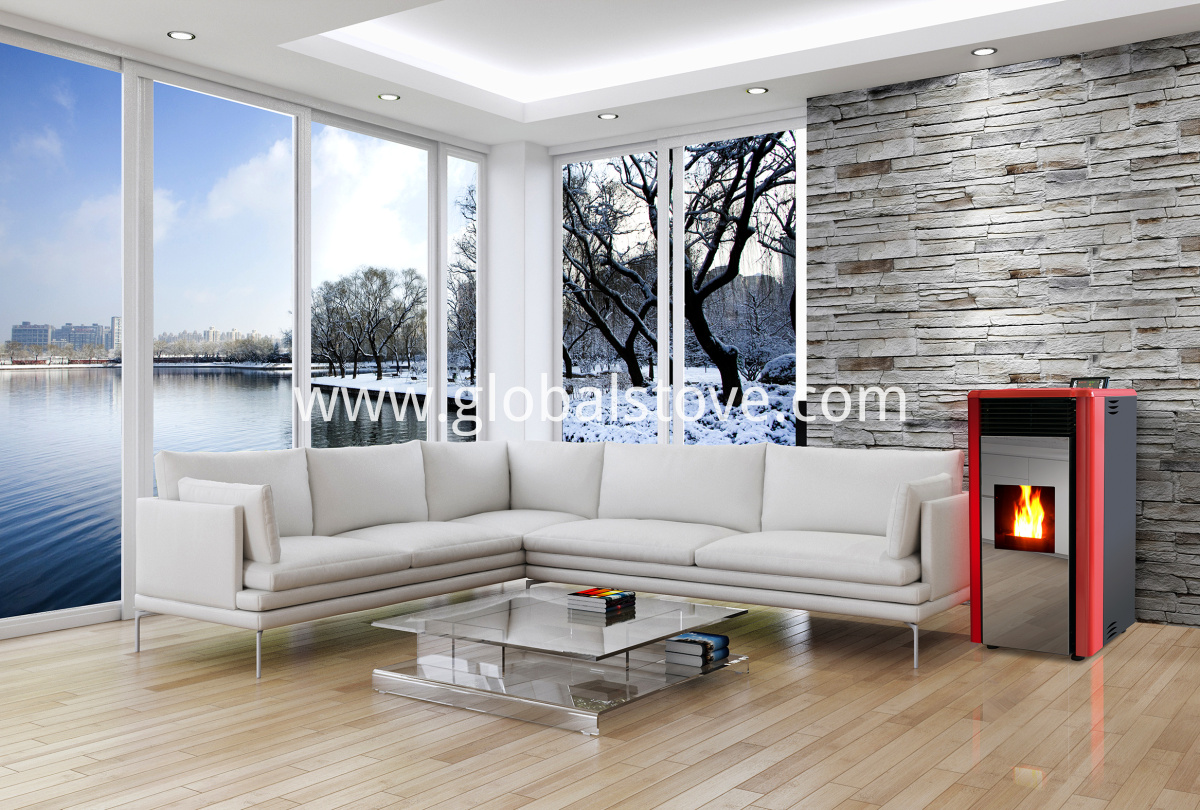 PARAMETER
| | | | |
| --- | --- | --- | --- |
| Model Number | CR-01 | Fuel: | Pellet |
| Rating Power | 3-8 KW | Efficiency | ≥85% |
| Rating Voltage and Frequency | 220-240V/50Hz 110-120/60HZ | Heat Area | 40-60 M² |
| Air inlet /outlet pipe | 50 mm / 80 mm | Hopper Capacity | 18 Kg |
| Automatic Burning Time (Min-Max.) | 11.5/30 H | Weight | 82 Kg |
| Consumption for Pellet(Min-Max.) | 0.6/1.6 Kg/H | Dimension(W*H*D) | 580*960*505mm |
| Electronic Consumption | 70-380 W | Port: | Ningbo / Shanghai |


FEATURES
1. Full carbon steel furnace body, the furnace door is high temperature resistant glass, resistant to high temperature of 1200 degrees Celsius.
2. LCD control panel, simple operation, automatic feeding, automatic ignition, temperature and air volume adjustable, with timing function.
3. The installation is simple, the fireplace is independent, and it can be used after connecting to the power source.
4. Real fire fireplace, beautiful and generous.
5. Environmental protection and energy saving, no dense smoke, low combustion cost.

case