CR-01 Cheapest Pellet Stove
The fan system is essential for clean, economical performance. When the combustion blower introduces air into the bottom of the combustion can, the generated flame is concentrated and dense in a small area of the combustion can, while also forcing the exhaust gas into the chimney. Although some pellet stoves can be very hot (especially on the viewing window), most manufacturers use a series of cast iron or steel heat exchangers that run along the top and back of the visible stove. Using a convection blower, indoor air circulates through the heat exchanger and enters the living space. The efficiency of this method is much higher than the radiant heat of hand-fed wood or coal stoves, and in most cases, it will make the top, sides and back of the stove feel the warmest. Together with the convection air exhaust fan exhausting air from the tank through a special fire vent is designed for particulate fuel. This cycle is also an essential part of the combustion system, because the concentrated high-temperature flame will quickly overheat the combustion chamber. Possible problems related to overheating are electrical component failure and flames entering the auger tube, causing the hopper to catch fire. As a safeguard, all pellet furnaces are equipped with thermal sensors and sometimes vacuum sensors. If an unsafe condition is detected, the controller can be shut down. For routine maintenance, it is recommended to use a dust collector. These are similar to workshop ventilation equipment but are designed to remove ash material. These vacuum cleaners can be used with pellet stoves, and the kit can clean the inner area of the stove to increase efficiency.
The Pellet Stove can be lit manually or by an automatic igniter. The igniter component is similar to the heating coil of the car's electronic cigarette lighter. Most models have automatic ignition function and can be easily equipped with a thermostat or remote control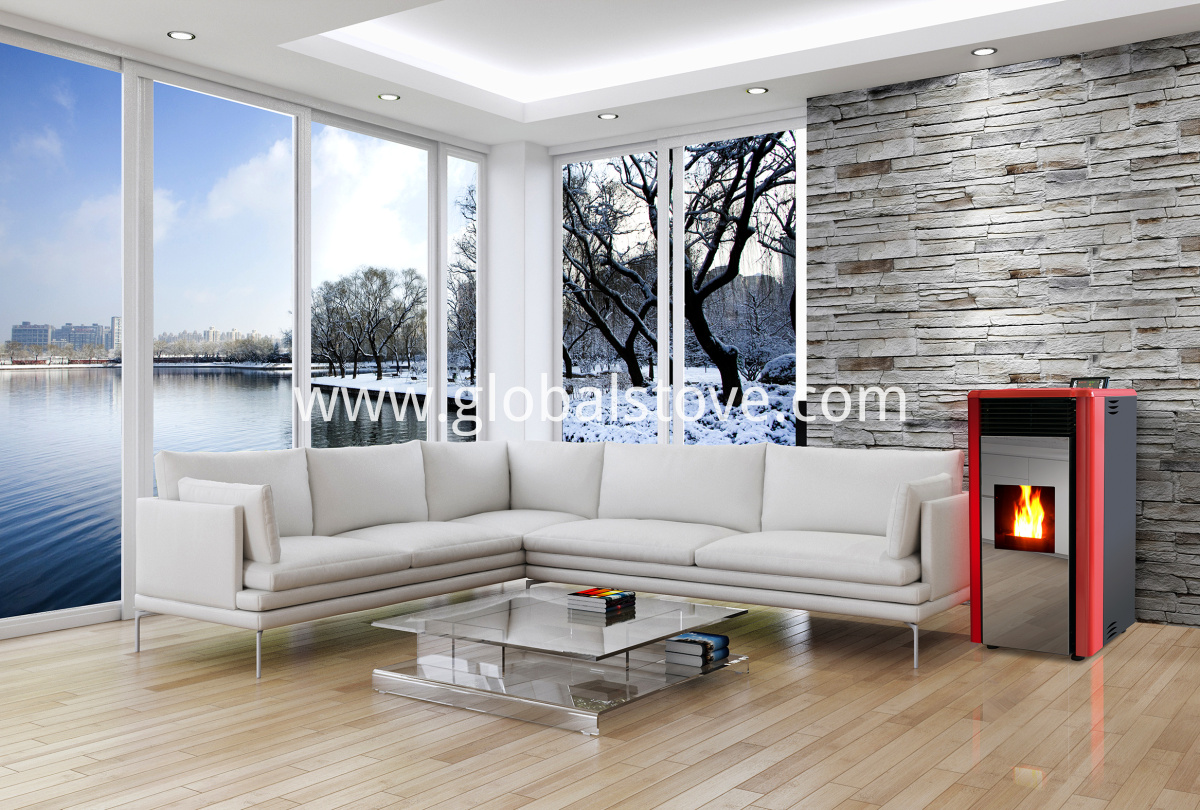 parameter
| | | | |
| --- | --- | --- | --- |
| Model number | CR-01 | gasoline: | Pellets |
| rated power | 3-8kw | effectiveness | ≥85% |
| Rated voltage and frequency | 220-240V / 50Hz 110-120 / 60HZ | Hot zone | 40-60 square meters |
| Inlet/outlet pipe | 50mm/80mm | Hopper capacity | 18 kg |
| Automatic burning time (min-max) | 11.5 / 30 o'clock | weight | 82 kg |
| Particle consumption (minimum-maximum) | 0.6 / 1.6 kg/h | Dimensions (width * height * depth) | 580 * 960 * 505 mm |
| Electronic consumption | 70-380 watts | port: | Ningbo/Shanghai |



feature
1. Full carbon steel furnace body, the furnace door is high temperature resistant glass, resistant to high temperature of 1200 degrees Celsius.
2. LCD control panel, simple operation, automatic feeding, automatic ignition, temperature and air volume adjustable, with timing function.
3. The installation is simple, the fireplace is independent, and it can be used after connecting to the power source.
4. Real fire fireplace, beautiful and generous.
5. Environmental protection and energy saving, no dense smoke, low combustion cost.

case